Black Panther | Film Review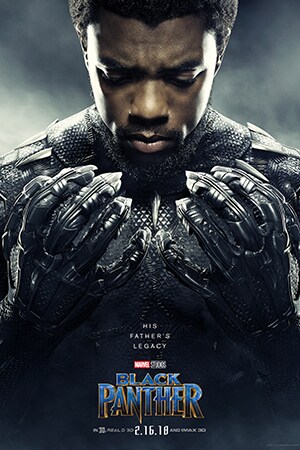 Hey Guys x
Now that the Oscars are done, I can go back to reviewing normal, non nominated movies!
Obviously this was the first on my list. If you read my blog, you know that I'm such a huge Marvel fan, and the character of Black Panther was already in 'Captain America: Civil War', so I was really excited to see the ways in which his character was developed.
The film takes place after the events of 'Civil War'. T'Challa has come back to Wakanda after his father is killed to take his place as king. However, when a familiar arms dealer and his dangerous accomplice make themselves known, we discover just what T'Challa has to do to keep his kingdom, and his people, safe.
That is the most basic description, because I don't want to give anything away.
I loved this movie!
As an addition to the Marvel Cinematic Universe slate of movies, and as a standalone in it's own right, it's an amazing movie.
The story itself was great. It attached itself to both 'Civil War' and 'Avengers: Age of Ultron', while also allowing people who had never seen either of those movies before to still completely understand and enjoy it. As a longtime fan of this franchise, those Easter eggs are my favourite part of watching these films, so it was nice to see the returns of Andy Serkis and Martin Freeman, as well as Chadwick Boseman.
And then there was also an amazing new cast. Just off the top of my head, some of my favourites were Michael B Jordan, Letitia Wright, Danai Gurira, Daniel Kaluuya and Lupita Nyong'o, who all played their roles to perfection and were stunning in different ways.
My favourite thing about the movie was the army of women. I think this is the first movie of this type where there is an army that is solely made up of women, and the fact that they were at the right hand of the king just further shows their importance. Not to mention that they were actually fierce fighters anyway.
The set designs were so amazing. This isn't something that I usually notice, but the fact that they primarily filmed in Atlanta is amazing to me because those fantastical sets look like they were filmed in an actual magical place - and I really want to go there!
The only thing I had a problem with was this thing that Taika Waititi said when he directed Thor: Ragnarok. He said that he wanted to make Thor the most interesting character, otherwise 'don't call the movie Thor'.
I feel like in this movie, Black Panther aka T'Challa wasn't the most interesting character. In fact, without the surrounding characters I wouldn't have cared about T'Challa as much as I did. And I personally think that the enemy could have beaten him if that fight was real and not for the purposes of a Marvel movie where the hero has to win.
But overall, it was an amazing movie, and it's still out in the majority of cinemas so go and see it!
Lou xx