My 2018 Summer Reading List!
Hey Guys x
So as you can see, it's that time of year again. The time when I'm done with uni and so actually get to go back to reading books for pleasure as opposed to reading them for essays!
Let's get started!
The Hate U Give
I bought this on a whim because I heard about the film and recognised some of the actors in it. It's by Angie Thomas and is about a girl called Starr who lives in two worlds: the poor black neighbourhood that she lives in, and the fancy prep school that she attends. When she is the sole witness to the shooting of her unarmed childhood best friend by a policeman, she finds that what she says could destroy her community. However, it could also endanger her life.
Doesn't that sound so good? I can't wait to read this!
Some Kind of Wonderful
As I say every year, Gi Fletcher is one of my favourite authors of all time, and I'm pretty sure that I have purchased every word that she's written so far (not including her new book with her husband Tom 'Eve of Man'). It's about a couple who have been together for a decade when they unexpectedly break up. So the girl, Lizzie, has to find out who she is without the boy, Ian, by her side. It sounds like it features huge character development and I'm excited to read it.
Surprise Me
Along with Gi, Sophie Kinsella is my other favourite author. I love her style of writing, I love her characters, and I love her plots. However, this book is a definite departure from what I've read of hers before. It's about a couple called Sylvie and Dan who have been married for ten years. When they discover that the could be together for another 68 years, they panic. Enter 'Project Surprise Me', an effort to keep their marriage fresh and fun. However, when a scandal from the past comes to light, the couple are left wondering if they ever really knew each other.
The reviews have been really good, so I'm very excited to read it!
The Lie
The first C. L. Taylor novel I read was 'The Accident' and it was one of the best books I've ever read in my entire life. It was a thriller that kept me on edge, left me suspenseful, and the pacing worked as well as it would have in movie form which is really rare, so of course I had to pick up another of her books and this was the one I chose!
It's about a woman called Jane who has the life of her dreams. Only, her name isn't really Jane. 5 years ago whilst on holiday with her best friends, something happened that took the lives of two of her friends. Jane has tried to move forward, but someone knows the truth, and they won't stop until they've destroyed Jane and everything she loves.
Without reading I already want them to turn this book into a movie! I really hope it'll be as amazing as it sounds!
The DUFF
This has already been made into a movie, and I loved the movie so much that I have this book on my list every year and never get around to it, but I swear to myself that I will definitely read it this year! It's about a girl called Bianca who is told that she is the DUFF (designated ugly fat friend) of her friends, but with the help of man-slut Wesley Rush, she plans to change that.
If the book is anything like the film, I'm sure it'll be great!
P.S. I Love You
I got halfway through this book when I was about 16, bought it, and never opened it again. At this point, with the movie version being so popular, everyone knows that it's about, so there's no point in explaining, but very briefly it's about a woman whose husband dies, but leaves her letters with rules enabling her to live her life to the fullest. I am completely determined to finish this once and for all!
Nineteen Minutes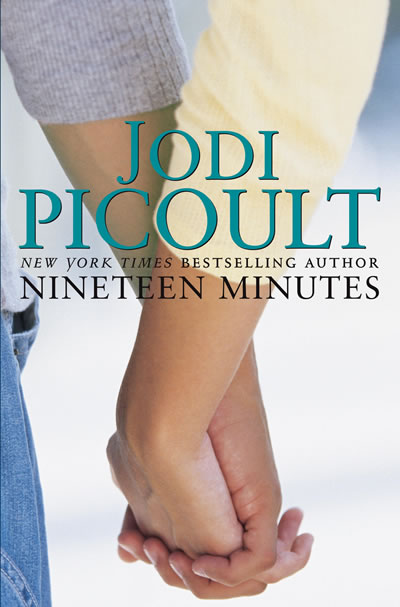 From the author of the incredible 'My Sister's Keeper' comes 'Nineteen Minutes'. After years of bullying, a student snaps and in nineteen minutes, ten of the town's residents are dead. When the trial begins, everyone wants justice for those that have lost their lives. However, as everyone's lives are put under the microscope, it seems that the residents of this small town are not as innocent as they claim.
It looks incredible, and if it's anything like 'My Sister's Keeper', it will be!
Red Sparrow
I saw the film version of this (starring Jennifer Lawrence) on whim and completely fell in love with the story, so of course I had to buy the book! The amazon description of the book states that: 'A Russian honey trap agent targets a young CIA operative to uncover a senior-ranking mole at the heart of the Russian intelligence service' - I chose to use that description because the plot is a bit confusing and I didn't want to get anything wrong. But it looks amazing nonetheless and I can't wait to get into it!
From Notting Hill With Love... Actually
This is another one that I've been sitting on for a while. It's about a woman called Scarlett who loves movies. With a wedding on the horizon, she has to decide whether or not she actually wants to go through with it. When she gets the chance to house-sit in Notting Hill, she takes it and tries to enjoy it, even with the annoying neighbour Sean around.
I think we can all see where that's going. This sounds like fluffy chick-lit which was the exact reason I bought it!
The Hunger Games
It's insane that I haven't read this book entirely yet. Especially because I wrote a full-length fanfiction based on this book, and never managed to read it all the way through! Not because I didn't like it, but because I read the parts I needed and then didn't read the rest. And there's no point in even explaining the plot because I'm pretty sure EVERYONE knows what this is about by now! But I'm very excited to actually read it from cover to cover.
Pretty Little Liars
And last but not least, we have Pretty Little Liars. This is kind of a cheat as I've already read it, but that was so long ago that it doesn't even count. It's about a group of 5 girls, one of which, Alison, is the clear leader, the one that all the girls tell their darkest secrets to. But when Ali goes missing, the girls want nothing but to find their friend. But three years go by, and still nothing from Ali, suggesting that she really is gone for good. Until suddenly, the girls start getting mysterious messages from 'A'; messages that threaten to spill their secrets. Who is the mysterious A? And will the girls be able to hold onto their secrets?
Whether you watch the show or not (I only watched the first season), the book is so great! Definitely read it if you get the chance!
Have you read any of the books on this list? Let me know in the comments!
Lou