The Big Sick | Blogmas Day 4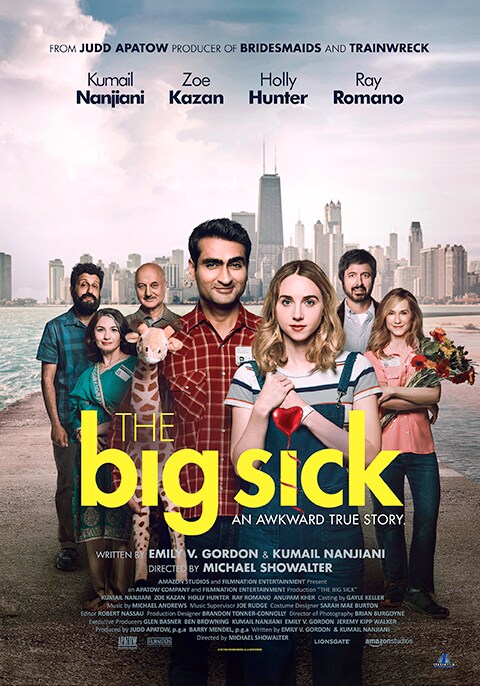 Happy Blogmas day 4!
Today's is another film review as you can see. Today I'm gonna be telling you about 'The Big Sick'.
This film is about a man called Kumail who is trying to be a stand-up comedian. At one of his shows, he meets a woman called Emily. After a one-night-stand, they get into a relationship. However, they face the issue of a cultural clash, due to the fact that Kumail's Pakistani parents try again and again to set him up with a Pakistani woman that they approve of. When Emily finds out about this, the end up breaking up, both getting on with their separate lives. However, one night Kumail gets a call and finds out that Emily was taken to hospital, so he goes to be with her. But is he still in love with her? And will he be able to get along with her parents?
I heard such good things about this film before I saw it, and let me tell you, every single good thing said about this film is completely true.
It's a true story, written by, based on and starring Kumail Nanjiani, telling the story of himself and his real-life now wife Emily Gordon.
It's just so touching. I can't remember if I actually cried or not while watching the film, but thinking about the film for sure makes me want to cry, especially because it's actually a true story. It's like, you know how people say that horror films are scarier when you know that they're true? Well for me, dramas are the same - they're so much more intense when I know that they're based on something true, and this film definitely benefits from that.
Emily's hospital visit and illness make the stakes for this film so much higher than when it's just your average culture clash movie. Like when 'Bend It Like Beckham' was about football rather than Jess's relationship with her coach. it gives me something to root for besides the romance which, in most movies, happens anyway.
I haven't seen Ray Romano in anything since his series 'Everybody Loves Raymond' ended in 2005, of which I've been rewatching pretty much every morning for the last two years. So it was nice to see him in something new, even if it has been over a decade! And no, Ice Age doesn't count!
Overall, this film had a story to tell, and I think it was extremely successful.
Have you see this? What do you think?
It's 21 days until Christmas!
Come back tomorrow for Blogmas day 5!