Hell Or High Water | Film Review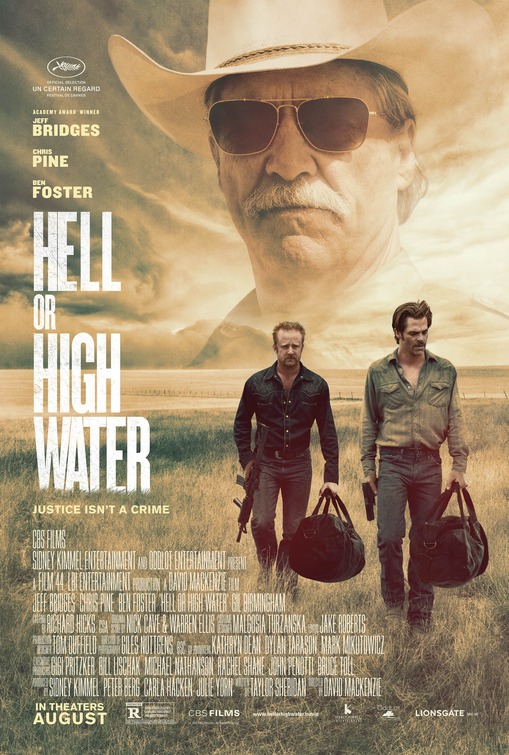 Hey Guys x
You may or may not know, but I saw this film AGES ago, all the way back in November. At the time, I obviously had no idea that it would be nominated for an Oscar, so I didn't review it (Not that I only review Oscar Nominated films, of course!)
But then, I thought it would be a bit unfair if I reviewed every film I saw and left this one out. So, a few months late, I'm getting around to reviewing it!
This movie is about two brothers, Toby and Tanner Howard. They live in Texas and basically, to try and stop their mother's ranch from going into foreclosure, they rob banks. However, after a slip-up or two, two policemen are on their tail, and will stop at nothing to make sure that they catch the thieving brothers.
Now, I said this when I first saw it, but I'll say it again now, I loved this film! My description probably made it sound less profound than some of the other Oscar films, but this is definitely one that can't be captured with a written description.
First of all, the writing was amazing. This film could have been taken in such a different direction, especially because it focuses on criminals. But the writing makes this film so heartfelt, so touching, so tear-inducing, it was amazing! I aspire to be able to write like this.
The acting was brilliant! I've seen the four main actors, Chris Pine, Ben Foster, Jeff Bridges and Gil Birmingham in movies before, and for all of them, this was one of their best performances to date. I was so impressed with all of them, and their great acting allowed me to completely lose myself in their stories, and I loved that about the film.
I think the location of the film was really interesting. As I mentioned, it was set in Texas, but there were so many deserts and long roads, I really felt like I was there, travelling with them, which was really nice.
Also, and I don't think I've mentioned this for any film apart from La La Land, but the music was so fitting for the film. I mean, it's not like there was a track that I could now sing along to, but it just worked so well with each scene in the movie. Everything about this just worked!
Whether you care about the Oscars or not, I still feel like you should see the film, particularly if it's not like anything you've ever seen before, which for me, it wasn't.
Thank you for reading!
Have you seen this? It's out now so pick up the DVD!
Lou xx