The YouTuber Book Rant!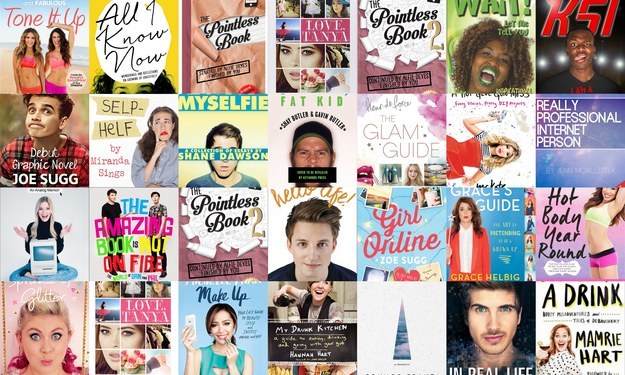 (
Image Link
)
Hey Guys x
YouTubers writing books has become a thing within the last 2 years, and it's quite a controversial thing!
It's a topic that I've wanted to talk about for a while because I have some quite strong views on it, from both points of view.
I also want to get your opinions on it because it's such an interesting topic!
So, I am not on any particular side with this debate, because I can see both points of view about YouTubers writing books.
I also need to point out that I don't see Carrie Hope Fletcher's book as a 'YouTuber book' - to me, she's an author.
I think YouTubers writing books is great - on the one hand, as a viewer.
These people have a lot of really young viewers, some as young as under 11. Because of this, these books can be the things that get these children to enjoy reading, which - as a bookworm - I think is really important!
And I also think it's a good business. Many celebrities write (or have ghostwritten) autobiographies, so I guess this could be seen as the same thing. Although whether or not you see YouTubers as celebrities is another rant for another day!
For the companies, and the YouTubers themselves, it's a good way to make money. Books can be quite expensive anyway, so by putting a YouTuber's name on it, the price of the book can be driven far higher! And let's not pretend that this isn't about money - YouTubers have to make money, otherwise they wouldn't be able to be full-time YouTubers. But this book industry is definitely a money-making opportunity, which I don't personally see as a bad thing. And I'm not saying that this is the sole purpose of writing a book, but it's definitely a thought!
But on the other hand, I have to think of this from the point of someone who's trying to become a published writer.
It annoys me that someone can write anything, put their name on it, and sell a million copies.
I, and people like me, fellow aspiring writers, work really hard and ponder over every word just to be knocked back a thousand times. And then, when someone does get their dream of being published, they're knocked down the charts by a YouTuber whose book may not be that well written.
I have bought some YouTuber books and have completely fallen in love with them. So I'm not saying that YouTubers shouldn't write books, but that their books make it so much harder on people who want to write books without this platform.
It also seems to me that you can read YouTuber books and completely tell whether they were written to make money or whether their author was passionate about the topic or not. For example, Zoe, Tanya and Louise are all people whose books I've read, and they all seem to be really passionate about what they've written about. But other YouTubers aren't as passionate, and I don't think that they deserve to be best-selling authors.
This is another thing that I want to talk about, being best-selling authors. I think making a YouTuber a best-selling author is redundant when every single YouTuber with a book is a best-selling author just because they're a YouTuber. And that's true, because a lot of them have written autobiographical pieces, which they wouldn't have done without YouTube because no one would have known who they are. Therefore, it's really disheartening when someone is best-selling for who they are rather than what they've written and how well they've written it.
And I know some people argue that YouTuber books aren't that well-written because 'YouTuber's aren't writers' - but I think that point of view is... off. If they aren't writers, don't write books! And if they do want to write books, maybe they should work on honing their craft before popping out the first thing that they write.
Having said this, if I was a YouTuber, I would release a book. However, I'm currently not a YouTuber and my dream is to write a book, so I don't think I count!
I'm not saying that all YouTubers shouldn't write books, or that all YouTuber books are badly written or anything like that! These are just some of my opinions on the controversy surrounding YouTubers writing books.
Thank you for reading
Comment below your opinion on YouTuber books - feel free to be as controversial as you like!
Keep Smiling - Lou xx