My Top 10 Romance Movies!
Hey Guys x
I love romance movies so much!
I love the idea of imagining myself in all of the different romantic situations, as well as fantasizing about the heroes!
So I put together a list of my favourite romance movies that I thought you guys might like to watch, or that I think you should watch!
I'll also include their trailers, so be sure to watch them!
10: Romeo and Juliet
At 10, we have this classic! I first saw it when I was studying Romeo and Juliet for my GCSE's, and I fell in love with it, because it was just so beautiful. I quite like Shakespearean language anyway, I find it quite beautiful, so watching it rather than reading it was really nice. It's the classic love story about a couple who meet, get together, get married, and die for each other within three days! Even if you're not studying this, definitely watch it, particularly the Leonardo Dicaprio version!
9. Sleepless in Seattle
This is quite an old movie, but it's so good! It's about a man who loses his wife and is trying to cope, for the sake of his young son. One night, his son calls into a radio station on behalf of his father, looking for a wife. He himself then comes on, talking about how he hasn't been able to sleep, earning him the pen-name 'Sleepless in Seattle'. Every woman who listens thinks that he sounds attractive, and he begins to get inundated with letters from all these women. His son picks one and decides that this one is who he wants his dad to marry - Meg Ryan's character.
It's such a lovely, romantic movie. I could watch it 100 times and still feel emotional throughout even though I know exactly what's going to happen! Don't be put off by the fact that the film is a bit old, it's so good!
8. Love Actually
Starring the late great Alan Rickman, this film is about a group of people and their different romantic situations. It's such a nice film, and there's always that one couple that you love more than all the others, and that you hope will get together. I had at least two or three that I wanted to see separate movies about because their characters were incredible and there was still so much that they could do!
7. The Five-Year Engagement
I don't know why I love this film so much, but every time it comes on I have to watch it, no matter what I would have been doing otherwise! It's about a couple (played by Jason Segel and Emily Blunt) who get engaged, but then always seem to find something that pushes back their wedding. With all of the distractions and delays, they begin to wonder if, maybe, they were never meant to get married in the first place!
This is very much the comedic side of romance, it is so funny and you can't help really resonating with these characters and investing in their story. Plus, Chris Pratt's in it, so there's another reason to give it a watch!
6. When Harry Met Sally
Another Meg Ryan rom-com! This time, we're exploring whether guys and girls can really be platonic friends. Harry and Sally meet and, after bumping into each other years later, become friends. Best friends. They talk to each other about everything, including new romances. But can they stay just friends, or is something pushing them together?
I love this film so much! I mean, I don't necessarily agree that guys and girls can't be platonic friends, but the premise is so sweet, and the characters have such a great chemistry!
5. The Fault In Our Stars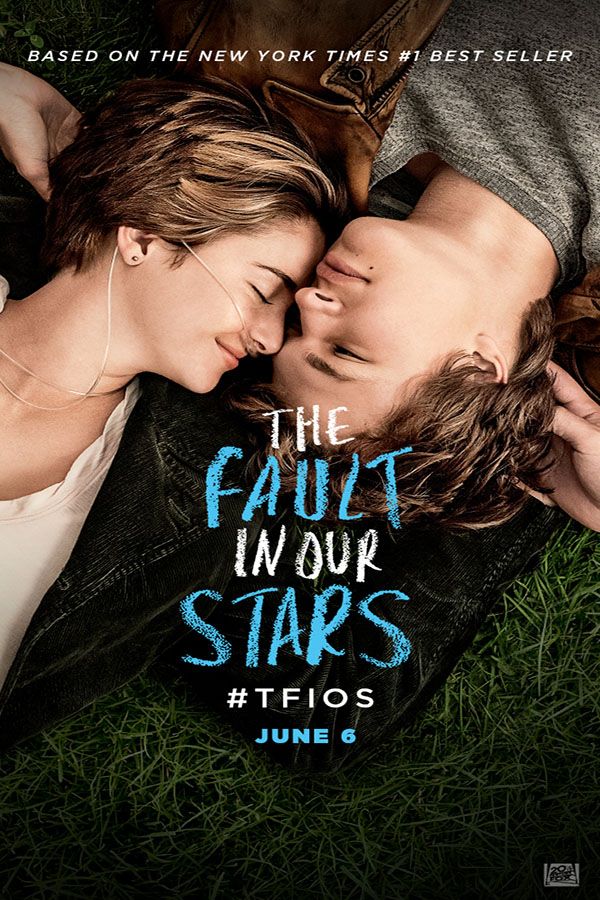 This film has been talked about so much over the last two years, and I completely loved it, so of course it had to be in this countdown! Hazel Grace Lancaster has cancer, and is understandably feeling a bit depressed about it. But when her mother suggests going to support group, she never expected to meet Augustus Waters, and strike up the romance of the decade! This is not a film to be missed!
`
4. Friends With Benefits
This is probably the most modern love story, in the sense that, they're friends with benefits. Or, to make it explicit, friends who have sex with no romantic attachment. But like 'When Harry Met Sally', it asks the question, can guys and girls be friends with no romantic attachment? Again, like all of the other films, I really do love this film. It's in my list of top 10 films of all time, because the script is amazing, the actors are awesome and everything comes together so nicely. Definitely watch this if you're old enough!
3. Before We Go
This is Chris Evans' directorial debut, and he's done a stunning job! It's about two people who meet each other late one night at a train station. Brooke's just lost her wallet and can't get home to do something that she needs to do, Nick's avoiding seeing his ex girlfriend at a wedding reception. Either way, these two come into each other's lives in an unexpected way, but when they discover more about each other, they realize that maybe they met for a reason. And as they spend all night tying to get Brooke home, their lives become more intertwined than they could have imagined.
This is such a nice film, and it really is the type of romance that I hope to have one day. The ending will probably surprise you, but either way, it's such a good film, you should definitely watch it!
2. What's Your Number?
Another Chris Evans movie, this time with Anna Faris (as well as Chris Pratt and Anthony Mackie!). Ally is worried. She's slept with 20 people and is told that anyone who sleeps with 20 or more people can't find a husband. So she enlists the help of her neighbour Colin to track down all of the men that she's ever slept with, so that she can fall in love with one of them and not go over 20, just in time for her sister's wedding. I think the idea of the film is really original, and I loved going back in time with Ally to see all of the men that she'd dated. And I also loved the chemistry between Chris and Anna, who are friends in real life I think. If you need something to watch with the girls, definitely watch this!
1. About Time
Here is my favourite romance movie right now! When he turns 21, Tim finds out that all the men in his family can time travel. So he uses this new-found information to land the girl of his dreams! That's the main premise of the film, I kind of don't want to give any specific information in case I accidentally give away a spoiler. But this film is so much better than it sounds, which is why it took me so long to watch it at first! It's so romantic, and entertaining, and clever, and smart and I could watch it over and over again with no problems. If you only watch one film from this list, make it this one!
Thank you for reading.
Comment below your favourite romance movie!
Keep Smiling - Lou xx