Red Sparrow | Film Review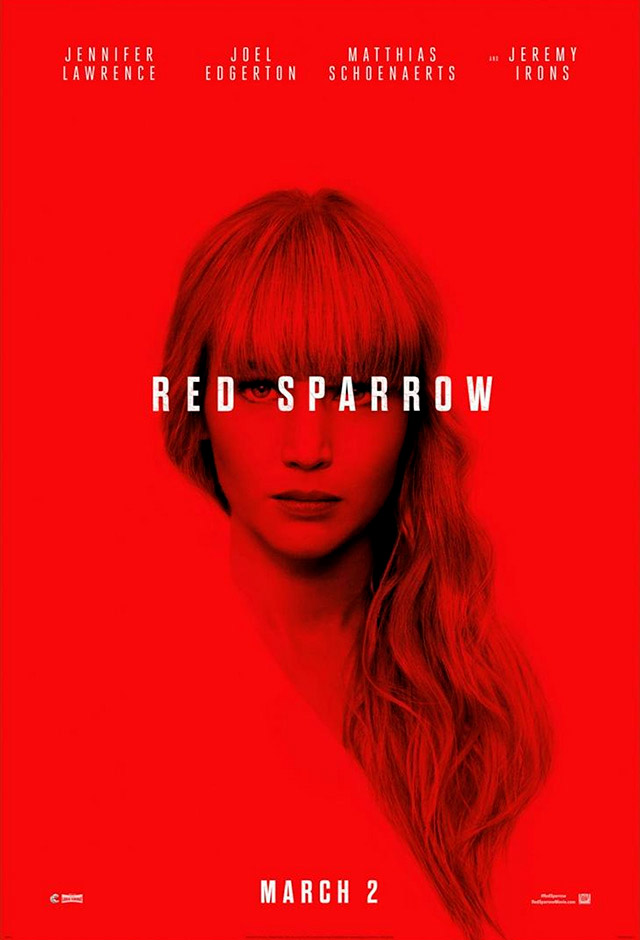 Hey Guys x
I love going to the cinema so much. In fact, the cinema is definitely one of my happy places - not least because I can see films and be completely away from distractions and interruptions.
This year I'm trying to go to the cinema as much as possible, even if that means seeing films that I probably wouldn't watch otherwise. This was one of those films. I didn't know anything about it going in, but I decided to go and see it anyway.
Ballerina Dominika Egorova is devastated when she suffers an accident while dancing and faces the end of her career. However, as a result of that, she ends up doing a job and seeing something that she should never have seen. This leaves her with nowhere to go but Sparrow School, a secret intelligence service that trains young people to use their bodies as weapons. Dominika becomes a dangerous weapon, someone that both Russia and America want on their side. But does Dominika know who she can trust? And when they're done with her, will she be able to go back to her old life?
I thought this film was really good. I enjoyed it a lot.
I have no idea how realistic this film is in terms of actual real-life CIA operations, but the director did an amazing job of making it completely real, and making the stakes so high. Normally in films, you know for sure that the main character can't die. In this one, there were definitely a few moments when I thought that the main characters might actually be about to die, and that made it so much more exciting.
I had no idea that this was a book until I looked it up before writing this review. The story of this is so interesting in itself that I'd definitely read the book. When films like this have big name actors like Jennifer Lawrence, it seems sometimes that their name is what's carrying the movie. But that definitely isn't the case with this movie. Jennifer is amazing in the role, but the role in itself is amazing too.
And while Jennifer was amazing in this role, so were the rest of the cast. The acting in this film was really good. The thing with well-known actors doing accents like this, is that you are explicitly aware that they are doing an accent, which can sometimes pull you out of the movie. However, after the first 5 seconds, I barely noticed it. It was done really well.
Having said all these things, there needs to be a definite warning before this film. It already says that there is sex and violence in this film, but even for me (the girl who lives for the 'Saw' movies) it was a bit much. It totally worked in the film, and I do think that it was necessary, I'd just raise the certificate from a 15 to an 18, because it kind of comes out of nowhere. Also there should be a r*pe trigger warning, because there's at least one of those scenes that took me completely by surprise.
Overall, I really would recommend this film if you're of age, or feel like you're mature enough to see it, because it is a lot. But the story is great, the acting is great, and as spy/espionage movies go, it's one of the best that I've seen.
Lou xx